258 Honeysuckle

©2012 41" x 48" I always think of lush old southern gardens when I hear the word "honeysuckle." Fortunately, the growing zone is not restricted to the south. When I sit on my back porch, I'm treated to the sweet scent of honeysuckle that climbs over my


257 Parasol Stars

©2012 30" x 35" The prints in the 4-inch star and framed four-patch blocks remind me of colorful silk parasols. Parasols of all styles and sizes were an important accessory for Civil War ladies. Usually made from silk fabrics, they were intended to pro


256 Caissons Rolling

©2011 31" x 31" Caissons were two-wheeled carts used to carry heavy ammunition chests, spare wheels, pick axes, shovels, tar buckets, and other miscellaneous tools needed to repair the roads they traveled on. This equipment weighed so much that si


255 Hard Crackers

©2011 17" x 19" "Crackers," the historical name of this quilt block, seems appropriate for the title of this quilt, given the role that crackers played in feeding soldiers during the Civil War. Making the 2 1/8" blocks for this quilt is a gr


254 Allegheny County

©2011 27" x 31" Women and girls from western Pennsylvania's Allegheny County, where I was born and raised, played an important part in the Civil War. Many worked in a local factory making bullet cartridges to supply the troops. Unfortunately, a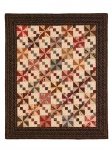 253 Bonnet Ties

©2011 27" x 32" Women of the Civil War era were expected to wear hats or bonnets when they stepped out in public. Yard-long ribbon ties that flowed down toward the woman's waistline, like the tiny squares flowing diagonally across this scrappy q


252 Marching Home

©2011 42" x 52" The way the triangles in this quilt line up reminds me of troop formations. My inspiration for the name of this pattern was the popular Civil War song, "When Johnny Comes Marching Home." l bet that tune is running through


251 Thorns and Roses

©2010 50" x 50" During the Civil War, many beautiful southern gardens were neglected. Thorns and weeds grew among the beautifully colored rose bushes. I was inspired to make this quilt after seeing the striped thorn print in Judie Rothermel's Civil Wa


250 Lilies for Connie

©2010 43" x 53" Many of my patterns are named for family members and friends. My Dear Friends pattern was named for a quilt I made for my dear friend Connie's birthday a few years ago. Sadly, Lilies for Connie is named in memory of her unexpected pas


249 Southern Belles

©2010 53" x 53" This medallion quilt with 6-inch center stars is made from very accurate reproductions of colors and print designs that were available around the time of the Civil War. All of the fabrics used in this quilt were reproduced by RJR fabrics


248 Lauren's Hat Pins

© 2010 31" x 37" Lauren, my beautiful and talented niece, has sung and danced in numerous musicals with national touring companies performing with the Pittsburgh Musical Theater. The tiny framed 4" shoofly blocks in this quilt remind me of the small pi


247 Milton's Musket Balls

© 2010 25" x 31" Civil War soldiers like Milton had to make enough musket balls to fill their leather pouches before going into each battle. The soldiers used the campfire to melt lead in an iron kettle.


246 Carriage Wheels

© 2010 60" x 78" When I saw this block in an antique quilt, it reminded me of a wheel with a fancy hub, perhaps like one that might have been found on carriages in the mid 19th century. The 33 blocks which measure 6.5 x 6.5 are set on point in a zig-za


245 Lizzie's Tents

© 2010 32" x 37" There are numerous reports of women who secretly served in the Civil War in order to be with their husbands and boyfriends (see my pattern named Mary Smith's Dishrag).


244 Land of Lincoln Sampler

© 2010 60" x 60" The names of the 9-inch blocks that make up this sampler quilt are related to places and events in Abraham Lincoln's life.


243 Remembrances

© 2009 65" x 75" Remembrances is a quilt to commemorate the Civil War Sesquicentennial-the start of the Civil War 150 years ago.


242 Allie Beane

© 2009 32" x 37" Regardless of what name parents select for a child, it seems that family members always come up with affectionate nicknames.


241 Gettysburg Sun

© 2009 29" x 36" The three-day Battle of Gettysburg was fought under the hot sun of July, 1863. Imagine how uncomfortable the soldiers must have been while running, fighting, and


240 Goober Peas

© 2009 25" x 31" A songwriter named Pindar composed the popular Civil War song Goober Peas. A sample verse is included in the pattern along with the chorus, "Peas! Peas!


239 Mary Smith's Dishrag

© 2009 23" x 27" There are numerous reports of women who secretly served in the Civil War in order to be with their husbands and boyfriends, and how their female identities were discovered.


238 Papa's Birds

© 2009 22" x 28" Our three-year old grandtwins have learned that their grandfather, whom they call Papa, likes to go bird watching. When he's not at home, they ask if Papa's out with his birds. These scrappy 3" x 3" blocks are made using the darting bi


237 Uniform Blues

© 2009 29" x 29" Faded uniforms, new uniforms, worn uniforms, soiled uniforms-the colors of blue on the battlefield


236 Juliet's Ribbons

© 2009 52" x 57" This strippie quilt, composed of 35 pieced blocks that finish at 5 inches each, is named after Juliet Opie Hopkins (same last name, but we aren't related), a Civil War nurse.


235 Myron's Campfire

© 2008 17" x 19" Our dear family friend, Myron, worked hard at building the perfect campfire at the lake where we spent childhood weekends from spring through fall.


234 Brass Buttons

© 2008 19" x 21" The small squares in the scrappy 4-patches in this quilt remind me of the buttons that decorated soldiers' uniforms during the Civil War.


233 Abigail's Gowns

© 2008 27" x 33" This quilt, made of twelve 4.5 pieced blocks set on point, is named for my niece Abby (previously introduced as


232 Alexander's Bean Pot

© 2008 36' x 42' Had my brother-in-law, Alex, been a soldier in the Civil War, his culinary skills undoubtedly would have earned him the job of cooking for his fellow soldiers


231 Hooker's Hat Patch

© 2008 29" x 33" If you've made any of my previous patterns, you know that I usually name my quilts after family members and friends.


230 Minnie's Moustache

© 2008 23" x 28" This quilt, composed of 12 pieced blocks that finish at 4.5 each, brings back memories of Minnie, our family dog who loved


229 Ellie's Tea Garden

© 2007 11" x 14" When Uncle Eddie introduced us to Ellie, his wife-to-be, I thought she had a wonderful last name AND she


228 Tribute to Judie

© 2007 62" x 74" I have collected Judie Rothermel fabrics since her first line was printed in 1987. I didn't start out with a plan to collect them, but every time she came out with new prints, I just had to have them.


227 Garnet's Envelope

© 2007 33" x 45 " Garnet, my long-time quilting friend, makes wonderful old-looking quilts that always have a special feature like a pieced border or an original quilting design that makes other quilters ask, 'How did you figure that out?' And her answ


226 Fields of Valor

© 2007 44" x 44 " My husband said this quilt reminds him of pictures he's seen in which Civil War battles were fought in fields divided by rail fences. This quilt, made of 9' star blocks consisting of 3 different fabrics each, is dedicated to all soldi


225 Cotton Seeds

© 2007 23" x 23 " Spring is here and everyone is planting seeds in preparation for summer gardens. The bright little 1.5 triangles that form the pinwheel blades


224 Grandpap's Cards

? 2007 30" x 36 " I remember watching Grandpap play solitaire while he listened to the radio. He kept the cards lined up perfectly throughout the entire game.


223 Mo's Suspenders

© 2007 21" x 25 " Our grandson, Alik, nicknamed 'Mo' by his mom, has such a little waist that his pants often end up around his ankles.


222 Poppy Ladies

© 2007 37" x 45" The colors of the flowers on this quilt remind me of the time my mother and I collected donations for paper poppies on Veteran's Day standing on the front steps of a bank in Pittsburgh.


221 Stars to Freedom

© 2007 31" x 31 " It's been said that stars helped guide the way north for slaves who sought freedom during the Civil War. Hopefully they shone as brightly as the blue stars


220 Small Joys

© 2007 16" x 21" Good things come in small sizes: fabric scraps, miniature blocks, little quilts, and in my case, beautiful twin grandbabies.


219 Nellie Jane

© 2006 53" x 73" This quilt may look complicated, but it's really just 6" hour-glass blocks (quarter-square triangles) set on point surrounded by sashing made from half-square triangles.