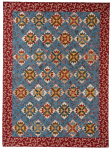 455 Little Blue River

©2015 Wall Hanging: 39" x 39", Throw: 56" x 76", and Queen Size: 79" x 89". The Little Blue River in Lexington, Missouri, was the site of the Battle of the Little Blue, part of a plan to seize Missouri for the Confederacy. The goal was to destroy U


454 Puzzles with Nana

© 2006 20" x 20" The center and corner pinwheel blocks are the focal point of this small medallion quilt. Nana, with whom we worked jigsaw puzzles each Christmas,


453 Smiles from Michelle

© 2006 19" x 19 " May these simple little 3" baskets, inspired by an antique quilt, bring a smile to your day the way Michelle's beautiful smile lifts the hearts of all who meet her.


452 Whistler's Wife

© 2004 42" x 42" The unusual setting for the 6-inch album blocks in this quilt eliminates the need for sashing and borders. Partial blocks around the outside edge create the appearance of a pieced border.


451 Dear Friends

© 2003 16" x 19" Quilting friends are so special! We share the joys of talking about quilts, fabric shopping, and making quilts, and we support, encourage, and admire each others' talents.


450 Timothy's Song

© 2003 56" x 65" The tiny shoofly blocks that dance across this quilt top remind me of musical notes in the songs that my son Tim writes and sings.