461 Twight Stars

©2020 47" x 47" Five scrappy 12" Feathered Star blocks set on point against a dark night sky background result in a wall hanging or table topper designed to blend in with modern or traditional decor. Fabrics shown are from the Country Soiree collection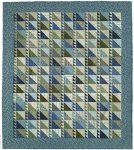 460 Lizzie's Tents II

© 2020 54" x 62" Dig into your scrap bag or untie that bundle of your favorite fabric collection to create blocks consisting of large and small half-square-triangles for this throw-sized quilt. Fabrics shown are from the Country Soiree collection.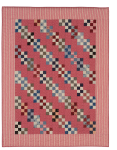 459 Mama Sara

©2017 41" x 53" Sara, our sweet daughter-in-law, is a woman of many accomplishments. But if you ask her what she's most proud of, being Mama tops her list. When you watch her twirl and sing "Let It Go" with Mallie, Maret, Alik, and Allie, you know sh


458 Waterfalls

©2017 78" x 78" One of the most popular hairstyles of the Civil war era was called "the waterfall", a look created by arranging a woman's hair into a flowing cascade down the back of her head, as suggested by the arrangement of these 9" blocks composed


457 Vince's Saloon

©2017 Vince's Saloon (foreground) 19" x 22" and Note Cards (background), 18" x 20". Both of these small patterns are easily made of scraps of red, blue, black, and pink fabrics combined with a variety of light background prints. My phototographer,


456 Carly's Star

©2017 45" x 45" Carly, our fun-loving daughter-in-law, brings great joy to our family. She brightens everyone's day, especially delighting her nieces and nephew as she joins their games of hide and seek, squeezing into the tiniest of places. Assorted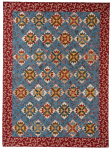 455 Little Blue River

©2015 Wall Hanging: 39" x 39", Throw: 56" x 76", and Queen Size: 79" x 89". The Little Blue River in Lexington, Missouri, was the site of the Battle of the Little Blue, part of a plan to seize Missouri for the Confederacy. The goal was to destroy


454 Puzzles with Nana

© 2006 20" x 20" The center and corner pinwheel blocks are the focal point of this small medallion quilt. Nana, with whom we worked jigsaw puzzles each Christmas,


453 Smiles from Michelle

© 2006 19" x 19 " May these simple little 3" baskets, inspired by an antique quilt, bring a smile to your day the way Michelle's beautiful smile lifts the hearts of all who meet her.


452 Whistler's Wife

© 2004 42" x 42" The unusual setting for the 6-inch album blocks in this quilt eliminates the need for sashing and borders. Partial blocks around the outside edge create the appearance of a pieced border.


451 Dear Friends

© 2003 16" x 19" Quilting friends are so special! We share the joys of talking about quilts, fabric shopping, and making quilts, and we support, encourage, and admire each others' talents.


450 Timothy's Song

© 2003 56" x 65" The tiny shoofly blocks that dance across this quilt top remind me of musical notes in the songs that my son Tim writes and sings.