300 Coffee Beans

?2019 23" x 32" These 4"x 5" elongated churndash blocks, capture the color of coffee beans, though coffee was a considered a luxury for Civil War combatants.


299 Knapsacks

?2019 27" x 27" Select a variety of prints in your favorite color to create this small quilt consisting of 3 3/4" blocks constructed solely from squares and rectangles. Civil War soldiers carried knapsacks, similar to today's backpacks.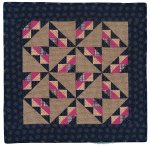 298 Ladies Lint Societies

?2019 24" x 24" The 4 1/2" blocks arranged in an eye-catching setting honor the efforts of women to support their husbands, sons, brothers, and friends. During the Civil War, groups of women gathered to unravel or scrape fine linen cloth.


297 Poor Kitty Popcorn

?2019 24" x 24" Plain squares mixed with 3" pieced blocks arranged in a medallion setting make this the perfect doll quilt, table topper, or pillow. Cats and dogs appear in accounts of Civil War combat and camp life, offering solace and amusement.


296 Quincy's Prize

?2019 63" x 68" Got scraps? Collect charm packs? This quilt, named for my granddog who collects a variety of objects during neighborhood walks, consists of scrappy 3 3/4" blocks, the perfect answer for using charm packs or odds and ends of fabric you?


295 Crazy Bett

?2019 53" x 64" Easy-to-make 6 1/4" blocks, made solely from different-sized squares, commemorate the legacy of Elizabeth Van Lew, an infamous northern spy, who feigned insanity to diminish suspicions about her extensive activities to aid General Grant